SNSF Scientific Image Competition: "Materialised history"
CLEFNI has participated in the Scientific Image Competition by the Swiss National Science Foundation (SNSF)!
Here is the first of the five entries by CLEFNI, which are displayed on the official Flickr gallery of the SNSF.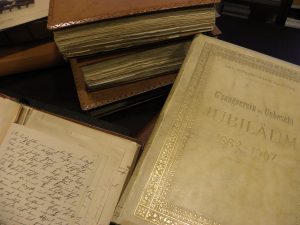 This photo shows different types of documents of the Uebeschi-Chor Bern, a men's choir founded in 1882. On the foreground, one sees the golden cover of the choir's 25th jubilee volume. On the top middle are three of the six massive volumes that describe the choir's history from 1882 to 2012. On the bottom right, one sees the inner part of one of these volumes. The upper left side shows part of a picture of 1884.